To read the original article at US Builders Review – CLICK HERE
When people think of a "family business" they often imagine a small shop that stays in one location, being passed from one generation to the next.
While it's true CJS Enterprises is family-owned and operated, it has followed a path of ownership and development that's been far from small and simple.
Craig Jones is the general manager of CJS, but his father, Curtis Jones, is the founder. Curtis started a one-man concrete business in 1962 and turned it into one of the largest concrete companies in the Phoenix Metropolitan Area. The name Curtis Jones and Sons Construction was known as one of the largest and most successful concrete contractors in Arizona.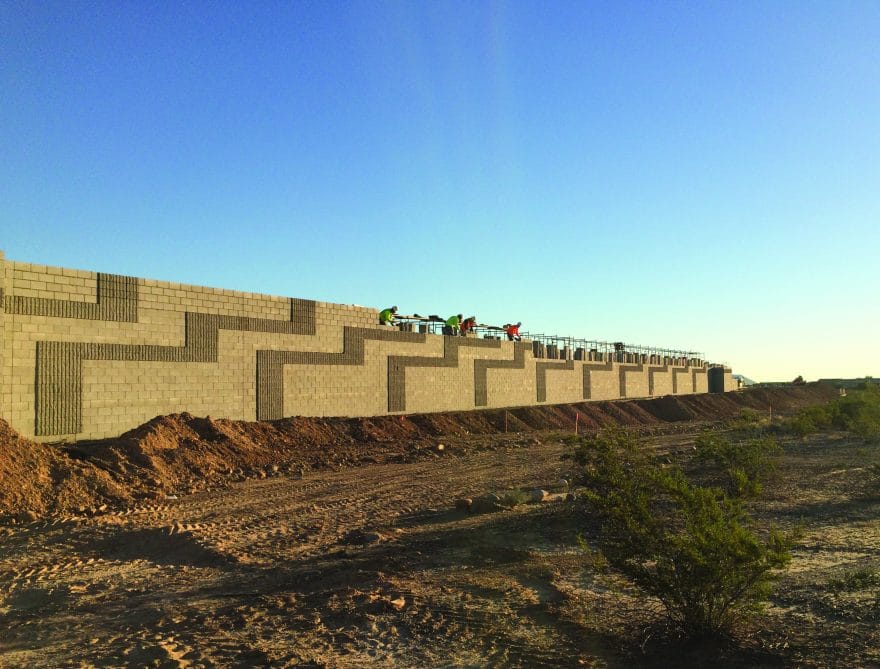 Curtis Jones decided to sell his business in 1995 to enjoy life. The new owners re-named the company CJS Enterprises LLC and hired Craig on as the general manager. In 1998 Craig took an opportunity to buy out one of the partners and as a result became 50 percent owner of CJS Enterprises LLC.
After 18 years of a cohesive partnership and putting CJS Enterprises in the forefront of the concrete and masonry industry, Craig purchased the remaining 50 percent of the company in May 2013 and became the sole owner of CJS. After 31 years of hard work and sacrifice, Craig and his wife Connie along with their children, Bradley and Amanda, are now able to call CJS Enterprises LLC their family-owned business.
Three companies in one
Of all the changes and business strategies implemented by the Jones family, Craig says growing the company to have three different divisions has been vital. In part, that's because there is only so much concrete that needs pouring. "You can grow a business so large and then you run out of opportunities," says Craig.
That diversification began in 1999 when CJS opened a masonry division. Nearly a decade and a half later, in 2013, the company opened an iron division. Both are overseen by Craig and Connie's son Bradley.
The extra divisions provide CJS with more work, but more importantly, the ability to provide a unique service: it can tackle projects that require a blend of masonry, concrete and iron.
Jones says that CJS only recently finished a contract to build retaining walls around a housing development that required all three divisions working together. The concrete team poured the foundation, or "footing," after which the masonry team erected the wall itself. The iron team finished up by installing a wrought iron fence atop the wall.
"Moving forward, we're going to make the divisions stronger by dealing with repeat customers," Jones says. He explains that his unique breadth of service and timeliness has already won him a loyal customer base that he hopes to expand.
Jones' three-pronged approach has also opened CJS to lucrative new business opportunities. Jones says that shortly after forming his masonry division he started winning $4 million contracts to create masonry sound walls a long freeway and highways.
General contractors were attracted by the fact that CJS could pour the foundations and erect the walls with its own resources, making it the affordable and efficient option. Now that CJS has had plenty of experience with this kind of project, sound mitigation walls have become one of its specialties.
Jones knows it's rare for subcontractors to branch out of their specialty as he did. Expensive equipment, tight margins and skilled labor shortages are just some of the deterrents for companies looking to expand. But Jones is willing to risk some money in the short term to achieve long term diversity. It's a bit like gambling: You "make the best educated decisions possible and minimize your risk," he says.
In Jones' case the risks have paid off, perhaps another indication that a tightknit family makes for a smoothly running business.
Expanding through local partnerships
Through Jones, CJS will continue to diversify, but rather than delving into other types of construction, it has been partnering with other construction companies.
In 2015, CJS partnered with Butler Manufacturing, a national commercial pre-engineered and conventional steel supplier specializing in steel building systems. Butler provided the designs for pre-engineered metal structures while CJS provides the construction expertise.
After only a year in this partnership, CJS has tackled some hefty projects, including an all-terrain vehicle dealership called Ride Now, as well as a tractor dealership called Ditch Witch.
In addition to its national partners, CJS has strong ties to local companies. Connie Jones, Craig's wife, is a minority owner of Seven Stars of Arizona, a Native American and entirely woman-owned construction company based in Peoria.
Seven Stars is a preferred contractor for Salt River Pima Maricopa Indian Community (SRPMIC) and the Navajo Nation. CJS works closely with its partner, sharing resources and workers for many projects. Being a preferred contractor for the SRPMIC means that Seven Stars has far fewer bidders to compete against when seeking project on Native American land, improving their bid success rates.
Jones also beats out competitors through tackling projects that are farther away from the Phoenix Metropolitan area.
Still, he says the most important connections formed at CJS are between family and friends. Running the business with his family gives him a sense of pride that is reflected in the quality of CJS' work. He explains that his projects aren't just a job, but a kind of landmark.
"I like telling people I can take my granddaughters down the road and say, 'hey, we built that,'" Jones says.